On May 31, 2012, FIDE announced the inaugural World Rapid & Blitz Championships, set to take place in Astana, Kazakhstan from July 1 to 11. The 2012 tournament consisted of a qualifying round, followed by the rapid and blitz events held consecutively over 5 days. In order to promote viewership, time controls were set at 15 minutes per player, rather than the pre-2012 standard of 25 minutes.

The championship was originally structured as a 16-player round-robin tournament, set to coincide with the first release of FIDE's rapid and blitz ratings in July 2012; invited were the top 10 players in the FIDE ratings list, the three medalists of the qualification competition, and three wild-card nominees by the organization committee and FIDE.

The style has since been changed to a Swiss tournament with a field of over 100 grandmasters. The top three finishers in the standings are awarded gold, silver, and bronze medals respectively; tiebreaks are determined by ARO (average rating of opponent).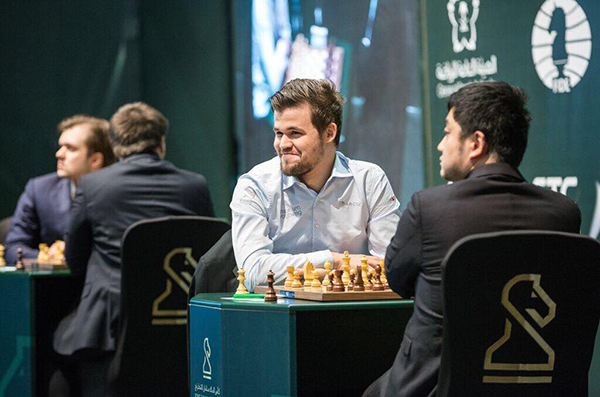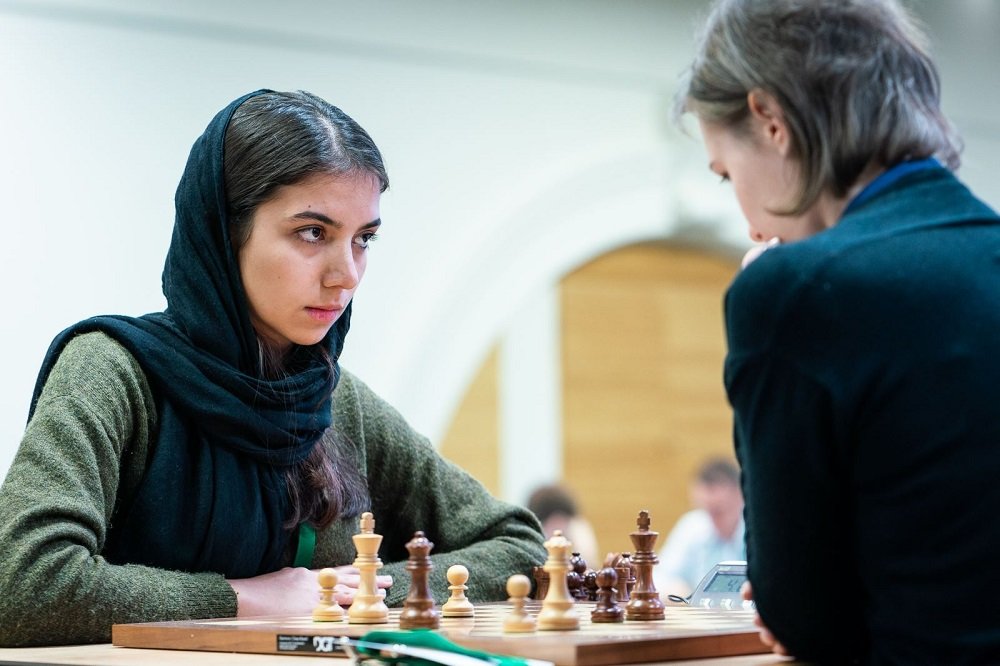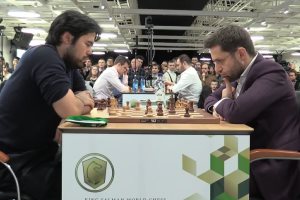 World Rapid chess champions since 2012
Year
Host city
Champion
Runner-up
Third place
2012
Astana
Sergey Karjakin

(RUS)

Magnus Carlsen

(NOR)

Veselin Topalov

(BUL)

2013
Khanty-Mansiysk
Shakhriyar Mamedyarov

(AZE)

Ian Nepomniachtchi

(RUS)

Alexander Grischuk

(RUS)

2014
Dubai
Magnus Carlsen

(NOR)

Fabiano Caruana

(ITA)

Viswanathan Anand

(IND)

2015
Berlin
Magnus Carlsen

(NOR)

Ian Nepomniachtchi

(RUS)

Teimour Radjabov

(AZE)

2016
Doha
Vassily Ivanchuk

(UKR)

Alexander Grischuk

(RUS)

Magnus Carlsen

(NOR)

2017
Riyadh
Viswanathan Anand

(IND)

Vladimir Fedoseev

(RUS)

Ian Nepomniachtchi

(RUS)

2018
Saint Petersburg
Daniil Dubov

(RUS)

Shakhriyar Mamedyarov

(AZE)

Hikaru Nakamura

(USA)
Women's World Rapid chess champions since 2012
Year
Host city
Champion
Runner-up
Third place
2012
Batumi
Antoaneta Stefanova (BUL)
Alexandra Kosteniuk

(RUS)

Humpy Koneru

(IND)

2013
Not Held
N/A
N/A
N/A
2014
Khanty-Mansiysk
Kateryna Lagno

(UKR)

Alexandra Kosteniuk

(RUS)

Olga Girya

(RUS)

2015
Not Held
N/A
N/A
N/A
2016
Doha
Anna Muzychuk

(UKR)

Alexandra Kosteniuk

(RUS)

Nana Dzagnidze

(GEO)

2017
Riyadh
Ju Wenjun

(CHN)

Lei Tingjie

(CHN)

Elisabeth Pähtz

(DEU)

2018
Saint Petersburg
Ju Wenjun

(CHN)

Sarasadat Khademalsharieh

(IRN)

Aleksandra Goryachkina

(RUS)
Year
Host city
Champion
Runner-up
Third place
2012
Astana
Alexander Grischuk

(RUS)

Magnus Carlsen

(NOR)

Sergey Karjakin

(RUS)

2013
Khanty-Mansiysk
Le Quang Liem

(VIE)

Alexander Grischuk

(RUS)

Ruslan Ponomariov

(UKR)

2014
Dubai
Magnus Carlsen

(NOR)

Ian Nepomniachtchi

(RUS)

Hikaru Nakamura

(USA)

2015
Berlin
Alexander Grischuk

(RUS)

Maxime Vachier-Lagrave

(FRA)

Vladimir Kramnik

(RUS)

2016
Doha
Sergey Karjakin

(RUS)

Magnus Carlsen

(NOR)

Daniil Dubov

(RUS)

2017
Riyadh
Magnus Carlsen

(NOR)

Sergey Karjakin

(RUS)

Viswanathan Anand

(IND)

2018
Saint Petersburg
Carlsen

(NOR)

Jan-Krzysztof Duda

(POL)

Hikaru Nakamura

(USA)
Women's World Blitz chess champions since 2012
Year
Host city
Champion
Runner-up
Third place
2012
Batumi
Valentina Gunina

(RUS)

Natalia Zhukova

(UKR)

Anna Muzychuk

(SVN)

2013
Not Held
N/A
N/A
N/A
2014
Khanty-Mansiysk
Anna Muzychuk

(UKR)

Nana Dzagnidze

(GEO)

Tatiana Kosintseva

(RUS)

2015
Not Held
N/A
N/A
N/A
2016
Doha
Anna Muzychuk

(UKR)

Valentina Gunina

(RUS)

Kateryna Lagno

(RUS)

2017
Riyadh
Nana Dzagnidze

(GEO)

Valentina Gunina

(RUS)

Ju Wenjun

(CHN)

2018
Saint Petersburg
Kateryna Lagno

(RUS)

Sarasadat Khademalsharieh

(IRN)

Lei Tingjie

(CHN)