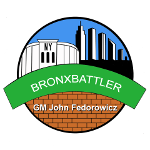 2017 Champions Showdown
9 - 14 November 2017
Round 1 - 4 (Nov 11, 2017) TC: 30 0
Live Show
Carlsen, Magnus
Ding, Liren
½-½
C90
Ruy Lopez
Ding, Liren
Carlsen, Magnus
½-½
D11
QGD Slav
Carlsen, Magnus
Ding, Liren
½-½
C84
Ruy Lopez
Ding, Liren
Carlsen, Magnus
0-1
E06
Catalan
| When you play the World Champion, chances are that if you get one striking opportunity in a match, it might be your only one. Ding Liren had a winning position in the first game with the black pieces, but it was very far from trivial and Carlsen found a very nice trick to retain the balance. After splitting the second game, Carlsen played a fantastic sequence in game three that gave him a winning advantage, playing a razor sharp variation. However, he missed the killing blow, and Ding Liren escaped with a draw. The fourth game was the one in which Carlsen finally struck a blow. Playing with the black pieces, he put on the squeeze against his opponent and finished off with gorgeous tactics to force his pawns through. | |
| --- | --- |
Round 1 - 6 (Nov 12, 2017) TC: 20 0
Live Show
Carlsen, Magnus
Ding, Liren
½-½
E49
Nimzo-Indian
Ding, Liren
Carlsen, Magnus
0-1
E49
Nimzo-Indian
Carlsen, Magnus
Ding, Liren
½-½
C50
Giuoco Pianissimo
Ding, Liren
Carlsen, Magnus
0-1
A28
English
Carlsen, Magnus
Ding, Liren
1-0
C84
Ruy Lopez
Ding, Liren
Carlsen, Magnus
½-½
E06
Catalan
| The lion roars! Carlsen was absolutely relentless, playing fast, confident, and precise chess. Ding Liren was unable to keep pace and lost several positions that perhaps shouldn't have been. In the second round, a relatively equal endgame finished in favor of Carlsen, and it seemed to be what opened the floodgates. The World Champion simply annihilated his opponent in the fourth and fifth games, and takes a huge advantage going into their third day of play. | |
| --- | --- |
Round 1 - 8 (Nov 13, 2017) TC: 10 0
Live Show
Carlsen, Magnus
Ding, Liren
0-1
B48
Sicilian
Ding, Liren
Carlsen, Magnus
0-1
A07
Reti
Carlsen, Magnus
Ding, Liren
1-0
B40
Sicilian defence
Ding, Liren
Carlsen, Magnus
0-1
E10
Queen's pawn game
Carlsen, Magnus
Ding, Liren
1-0
C90
Ruy Lopez
Ding, Liren
Carlsen, Magnus
½-½
E11
Bogo-Indian defence
Carlsen, Magnus
Ding, Liren
1-0
C84
Ruy Lopez
Ding, Liren
Carlsen, Magnus
0-1
D37
QGD
With the other matches decided and finished, it was a two-man show at the Chess Club and Scholastic Center of Saint Louis as Ding Liren and Magnus Carlsen entered their day three. Well, one could argue that it was really a one-man show, as Ding Liren was simply wiped off the board despite winning the first game.

Things started off with fireworks as the Chinese super star crushed the World Champion in the black side of a Paulsen Sicilian. His play was fast, accurate and remarkable – it was a good quality game if it was a correspondence time control, and almost unbelievable in a 10 minute game! Unfortunately for Ding Liren's fans, that's basically where the fun ended.

Carlsen came back with a vengeance, winning game after game after game. His style was fluid and solid, and his mistakes minimal. His precision was coupled with better time management than his opponent. It wasn't that Ding Liren played particularly slowly, but his opponent was just playing moves at rocket speed. Every mistake that Ding Liren played was almost immediately punished. To say that Ding Liren played badly today would be an exaggeration, he was certainly playing below his usual level, but he was also facing a machine.

Carlsen won a few games in his typical style: pressing positions from minimal advantages. This caused his opponent to crack on the fourth game and flag in the seventh, while game five was simply complete annihilation. Ding Liren managed a sole draw after the initial bout of the day, and the match was over after the seventh game of the day.



Round 1 - 12 (Nov 14, 2017) TC: 5 0
Live Show
Carlsen, Magnus
Ding, Liren
½-½
A04
Reti
Ding, Liren
Carlsen, Magnus
0-1
E62
King's Indian
Carlsen, Magnus
Ding, Liren
0-1
B23
Sicilian
Ding, Liren
Carlsen, Magnus
0-1
A15
English opening
Carlsen, Magnus
Ding, Liren
½-½
A45
Queen's pawn game
Ding, Liren
Carlsen, Magnus
0-1
A56
Benoni defence
Carlsen, Magnus
Ding, Liren
½-½
A25
English
Ding, Liren
Carlsen, Magnus
0-1
A56
Benoni defence
Carlsen, Magnus
Ding, Liren
½-½
B51
Sicilian
Ding, Liren
Carlsen, Magnus
0-1
A40
Modern defence
Carlsen, Magnus
Ding, Liren
1-0
A05
Reti
Ding, Liren
Carlsen, Magnus
½-½
D37
QGD
The sixth and final day of the Champions Showdown was a formality for the players, since Magnus Carlsen's crushing performance on days four and five already sealed the deal in his favor. Despite speculation that the World Champion would push hard for a 3000 blitz rating, arbiter Tony Rich informed us early on that none of day six's games count towards ratings. Official FIDE rules indicate that once a match winner has been determined, the remaining games of the match cannot count for rating. Since Carlsen clinched yesterday with a round to spare, neither that last round nor today were officially counted for FIDE ratings.

With honor on the line, and as competitive as these players are, there was no lull in the action despite the lack of outside incentive. Indeed, the players' games today can be described as blazes of fury, one after another, though, unfortunately for Ding Liren, he was again in the receiving end of the great majority of these games.

In another funny series of results, it seemed like the white pieces were simply unable to perform! Ding Liren had real chances in his first game with black, but Carlsen managed to get out of trouble, and immediately after struck a win with a nicely timed queen sacrifice for a tremendous outside a-pawn. Ding Liren seemed to be in gear as he spurred a repetition to convert a winning endgame. And, more or less like yesterday, after Ding Liren's one win, the fun stopped.

Carlsen's resourcefulness in the hedgehog proved to be too much for his opponent and Ding Liren was out in 24 moves. The Chinese player was winning the next game, but he was simply too slow and was flagged in king and rook vs. king, resulting in a draw. Ding Liren had many more opportunities to win games, but his spirit wasn't there and he was playing against machine-like defense when things got tough. The World Champion was ruthless, even being somewhat dissatisfied with his play: "I'm not 100% thrilled with the way things went today - he had so many chances!" remarked Carlsen, who also had an explanation of how he saved so many games today. "In blitz, a winning position is not enough. If there's no clear way to win it, it doesn't really matter that much!"